Next Meeting - Friday, 04 August, 2017 - 7:00 PM
CLICK HERE FOR 8.5 X 11 2017 BRITJAM POSTER
This is the smaller poster for display in businesses and public places
UPCOMING EVENTS including CLUB RIDES
Current paid CT BIA members get $10 gas money for riding a British bike and $5 for non-British. Please wear a helmet and a Britjam T-shirt if you have one.
Tuesday, 7/18/17
We will have our annual "Flyer Ride". We stop at different shops and bars in Eastern CT to drop off "Brit Jam" flyers. We will leave at 10 AM from Dennis Shooter's house at 12 Oakwood Lane, Columbia, CT 06237
Saturday, 8/5/17
We will ride to the Yankee Chapter of AMCA National Meet held at Hebron Lions Fairgrounds (RT 85) in Hebron CT. We will meet/leave at 10 AM from Family Pizza, 296 Main St. (RT 85) in Colchester, CT 06415
Sunday 8/6/17
Yes, the next day we will ride to the 50th Annual Motorcar Meet sponsored by the Belltown Antique Car Club held at Haddam Neck Fairgrounds (home of Brit Jam). We will meet/leave from Family Pizza in Colchester, CT at 10 AM. This ride is just a short distance from Family Pizza so it is not a paid ride.
Bristol Connecticut Press article about helmet laws
BRITJAM 2017 - SUNDAY AUGUST 20. 2017
Every THURSDAY - 6 PM - WRENCH MEETING:
Meet at Dave's place in Madison to work on Britjam Door Prize and other bikes.
Click here to email for directions to Dave's place
Dave, Doug and Pete working on the Britjam 2017 door prize, a 1978 Triumph Bonneville.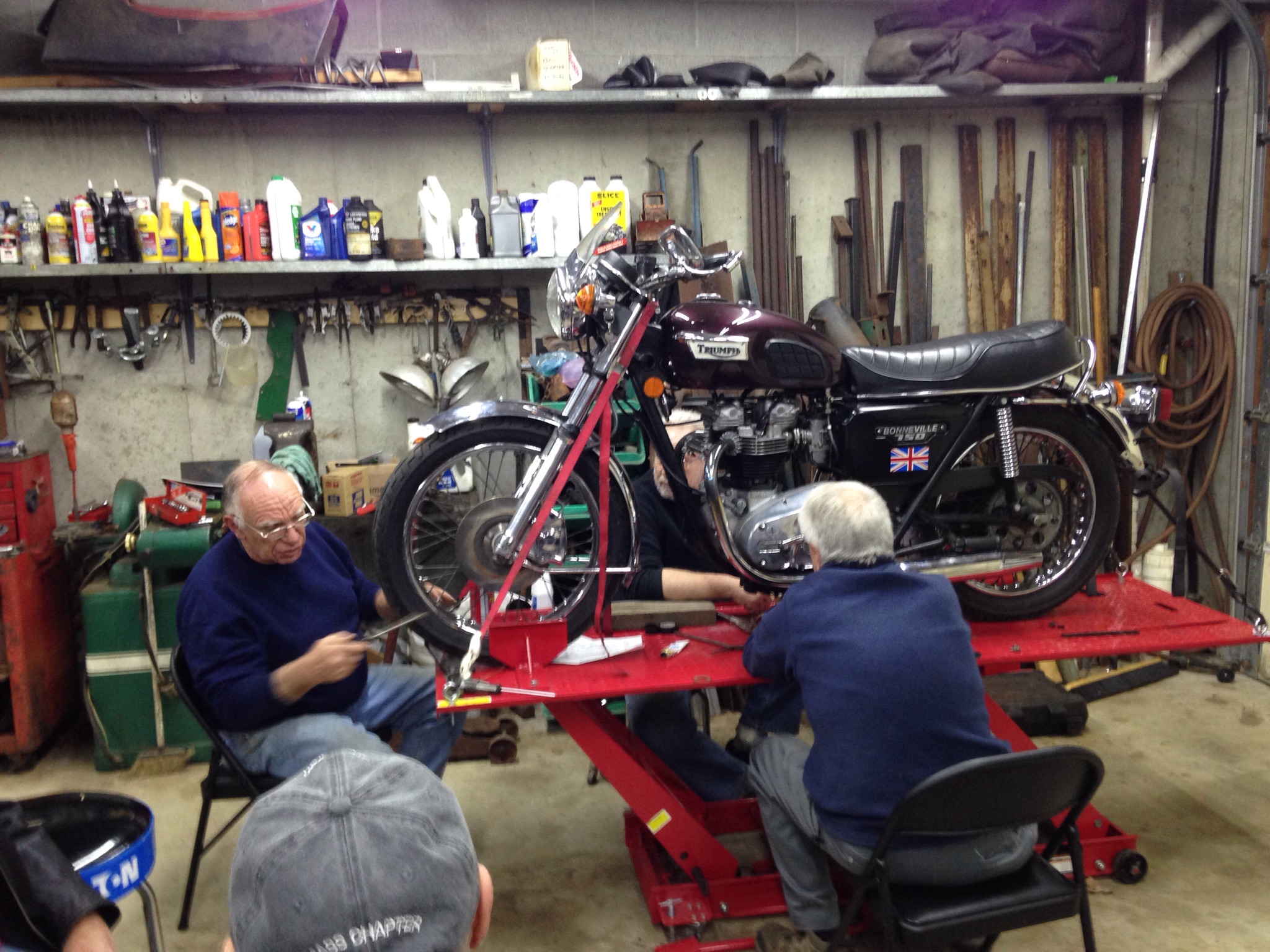 CLICK HERE FOR 2017 BRITJAM FLYER
REMINDER: If you are not receiving our quarterly newsletter via email or paper; you have not kept your membership current or your contact info. needs updating for our records. Contact Membership with any questions.