Next Meeting - Friday, 07 July, 2017 - 7:00 PM
CLICK HERE FOR 8.5 X 11 2017 BRITJAM POSTER
This is the smaller poster for display in businesses and public places
Association members thank Rob Iannucci's Team Obsolete with Dave Roper and the staff of Thompson Speedway Motorsports Park, Henry Capotosto and Jeff Price, for sharing a great day watching classic race bikes including lunch on May 09. We will be returning to Thompson for the upcoming 2017 Vintage Motorcycle Classic on Sunday, June 25 as a club ride. See below and click on link.
Click here for link to Thompson Speedway Vintage Motorcycle Classic info
UPCOMING EVENTS including CLUB RIDES
Current paid CT BIA members get $10 gas money for riding a British bike and $5 for non-British. Please wear a helmet and a Britjam T-shirt if you have one.
June 15 to June 18, 2017
40th Annual Jampot Rallye for AJS, Matchless & all other British Bikes
June 15 to June 18, at Blackthorne Resort, East Durham, New York
Sunday, 25 June 2017
We will be riding to the 2nd annual Vintage Motorcycle Classic at Thompson Speedway, 205 E. Thompson Rd., Thompson CT 06277. Cost is $10. We will have 2 starting locations. At 10 AM we will meet/leave from Family Pizza in Colchester, CT. We will then ride to the Vanilla Bean, 450 Deerfield Rd., Pomfret, CT. We should arrive about 11 AM. If this is your starting location please be ready to leave when we arrive. This is a paid ride.
Click here for link to Thompson Speedway Vintage Motorcycle Classic info
Saturday, 01 July 2017
TIDDLER TOUR X
Doug, Dave, and Amy Roper invite you to our 10th Tiddler Tour to be held Saturday, July the 1st
Same rules apply
Preferred bikes are 1970 or older 350 CC and under
All bikes are accepted
(Contrary to popular belief, Dave will not be chain whipping other entrees)
Starting at 10 am sharp!
There will be a morning tour 78 miles long
Average speed .02 mach
Stop at Subway, China Royal, or The Pilot House; grab lunch and bring it back to our house - we have chips and drinks
And an afternoon tour of 44 miles
Average speed mach .90
Dinner back at the house
You are welcome to come early and camp on our property - plenty of parking
You can start setting up on Friday and stay on into Sunday
Doug and Amy Roper
75 Parmelee Road
Haddam CT 06438
860 345 8309
wonkyworks@comcast.net
RSVP would be welcomed for food and beverage figuring
Please bring pot luck for dinner or donations
Message us for route sheets in advance
Bristol Connecticut Press article about helmet laws
BRITJAM 2017 - SUNDAY AUGUST 20. 2017
Every THURSDAY - 6 PM - WRENCH MEETING:
Meet at Dave's place in Madison to work on Britjam Door Prize and other bikes.
Click here to email for directions to Dave's place
Dave, Doug and Pete working on the Britjam 2017 door prize, a 1978 Triumph Bonneville.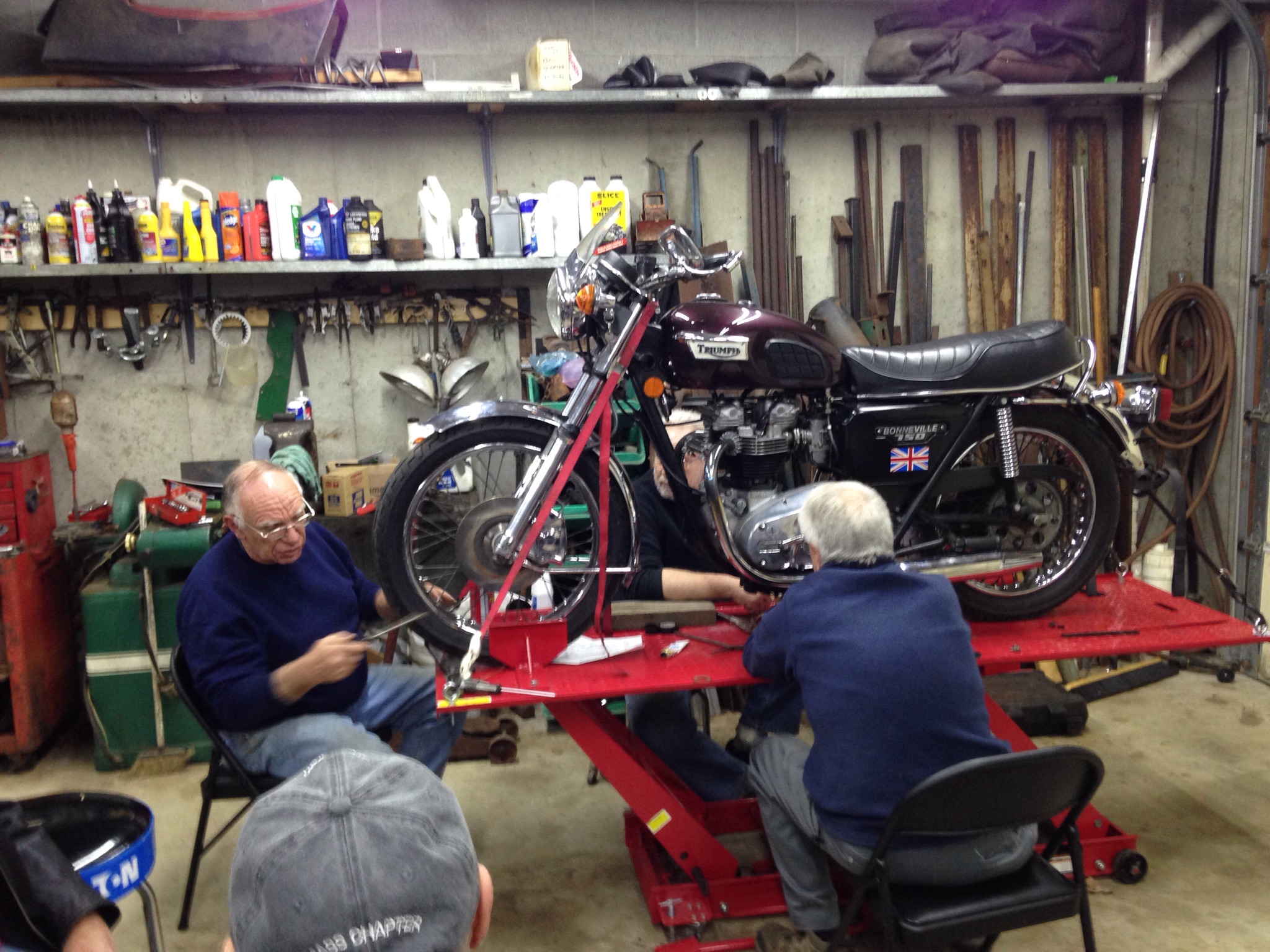 CLICK HERE FOR 2017 BRITJAM FLYER
REMINDER: If you are not receiving our quarterly newsletter via email or paper; you have not kept your membership current or your contact info. needs updating for our records. Contact Membership with any questions.