If you would like to join The British Iron Association of Connecticut,
fill out an application or come to a club meeting!
(The club hold monthly meetings on the first Friday of every month.)
Join us at the British American Club, 73 Maple St, Manchester, CT 06045

Announcing our October Club Ride in Eastern Connecticut
October 1, 2017!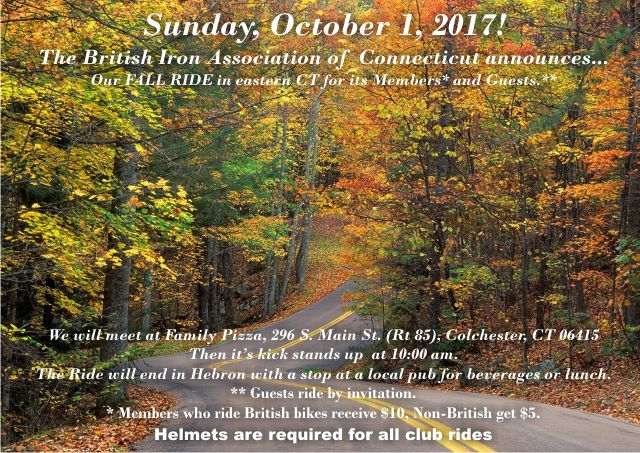 The British Iron Association of Connecticut
Announces Our FALL RIDE in Eastern CT
for its Members* and Guests.**
We will meet at Family Pizza, 296 S. Main St. (Rt 85), Colchester, CT 06415
Then it's kick stands up at 10:00 am.
The ride will end in Hebron with a stop at a local pub for beverages or lunch.
** Guests ride by invitation.
* Members who ride British bikes receive $10, Non-British riders get $5.
Helmets are required for all club rides.

WRENCH NIGHT:
Every THURSDAY - 6 PM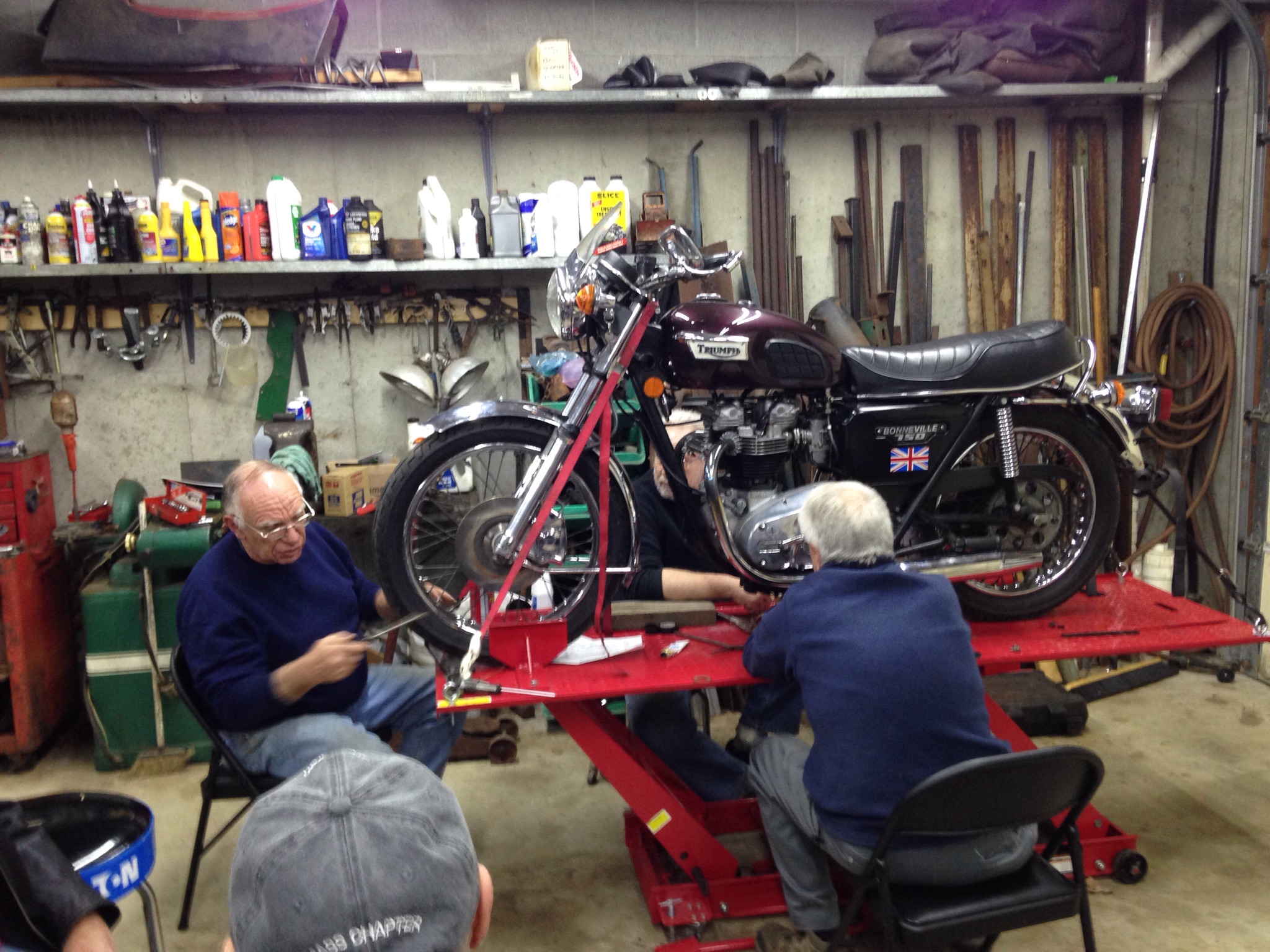 Dave, Doug and Pete working on the Britjam 2017 door prize, a 1978 Triumph Bonneville.
Meet at Dave's place in Madison to work on Britjam Door Prize and other bikes.
Click here to email for directions to Dave's place

REMINDER: If you are not receiving our quarterly newsletter via email or paper; you have not kept your membership current or your contact info. needs updating for our records. Contact our Newsletter Chairman with any questions.


MEMBER BENEFITS
Your $35.00 Annual PAID dues provides new members with;
An embroidered Club Logo Patch, A Club Logo Sticker & A Membership Card.
you get $10.00 gas money for joining club rides if you ride a British bike (and $5.00 for riding a non-British bike.)
A helmet is required, and a Brit Jam or CT Brit Iron club T-shirt (if you have one) is requested.
Members also receive a free dinner at club meetings (beverages are on your own...)